Growing up in Niagara Falls, Canada I've has always had a love of television and the industry, and spent much of my childhood watching, analyzing and, unbeknownst to me, writing spec scripts for creative writing class in grade school.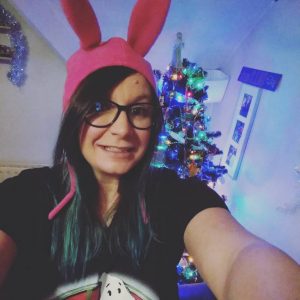 After graduating from high school I packed up and moved an hour away to attend Humber College in Toronto where I graduated with honors from the Film and Television Production course. I loved residence food that much I decided to stay another year to earn a post graduate degree in Writing and Producing For Television.
In 2005 I decided to give "being a princess" a whirl and moved to England, but all hope was lost with the engagement and eventual marriage of Wills and Kate. Since then I've put all my efforts into realizing my real dreams, being a television writer, animator and a Lego Master Builder – in no particular order.
Currently I'm a member of the Sheffield based improv troupe The Antics, and I travel to Los Angeles annually to continue my comedy education at The Groundlings in West Hollywood, where I'm enrolled in the Core Track Training Program. In the past several years I've had short films screened at the Virgin Media Shorts, Canberra and Colchester Film Festivals, earning honorable mentions in the latter.
Besides writing and improv comedy I love graphic design – and I'm a self taught web designer, developer and animator. I spend a lot of time at the computer creating things in WordPress, Illustrator, Photoshop, and Blender 3D and am always looking for new projects to challenge my creativity.
During my down time you can probably find me cheering on my favorite teams – The Buffalo Bills and Toronto Raptors, creating art and animations, and hitting up theme parks.  I openly admit to spending too much money on Lego, watching television in the name of "research" and having a current addiction to Chai Tea. I'm also the co-host of The Goldnerds Podcast, the un-officially-official Goldbergs podcast where we have interviewed many of the cast, crew and writers.
I'm happily married and live with my husband and two cats Loki and Ennis, and my inspiration for everything is Tina Fey and Wendi McLendon-Covey.
Fast Facts About Me
Fave Shows:
The Goldbergs
Married With Children
30 Rock
Newsradio
The Middle
Gilmore Girls
The Office (UK, sorry gang it's far better)
In Living Color
Living Single
ER
Fave Movies:
A League Of Their Own
Jurassic Park
Dumb & Dumber
Bridesmaids
Mean Girls
Don't Tell Mom The Babysitters Dead
Toy Story
Thelma & Louise
True Romance