Mixed-Ish (ABC)
September 26 2019
2019-2020 Season
I won't contain my fangirling – I was super excited to hear about this show from the get go! I'm a huge fan of the Keny-verse which has already had two brilliant outings with Black-ish and Grown-ish, so I had high hopes for this show.
And I wasn't let down. At all.
Mixed-ish, follows Tracee Ellis-Ross' character Bo during her childhood, which for those that have been long time viewers of Black-ish will know was anything but conventional.
The essence of Mixed-ish is a fish out of water scenerio – which is fine – but there is, much like it's companion series, much more to it.
Starting off in the summer of 1985 we get to meet the younger versions of Bo (Arica Himmel), Johan (Ethan William Childress) and Santamonica (Mykal-Michelle Harris) who after being uprooted from their hippie style commune find themselves, along with their parents (Mark-Paul Gosselaar and Tika Sumpter) in the pure essence of suburbia.
Enter rich conservative grandad (Gary Cole!!!) and Aunt Aunt Denise (stand out Christina Anthony) and we have the makings of another home run for team Barris.
I honestly can't say enough great things about this show, it's funny, heart felt and for a pilot – really really good! And the kids are INCREDIBLE! Watch out for the youngest start Mykal-Michelle Harris, to become the Marsai Martin of this series, because she's got some great comedic timing.
After watching the show, I tweeted out my feelings and I feel they sum up everything I feel about Mixed-ish…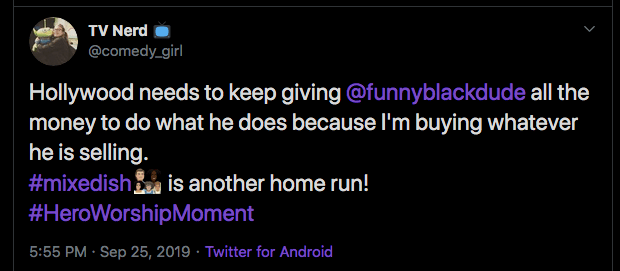 Team #KenyaVerse all the way!
Mixed-ish airs Tuesdays at 9/8c on ABC